What is Jet Grouting Process
The jet grouting process mainly adopts an improvised high-pressure rotary spray method to form an anchoring section of the rotary spray underreamed anchor on the bottom plate of the anchor. Besides, the bearing plates are distributed in the anchoring section of the underreamed anchor to realize the dispersive of the internal stress of the anchor. As such, the pull-out force and its stability are strengthened which enable the integration process of drilling, anchoring and grouting. Furthermore, the work efficiency can be improved and the progress can be accelerated greatly.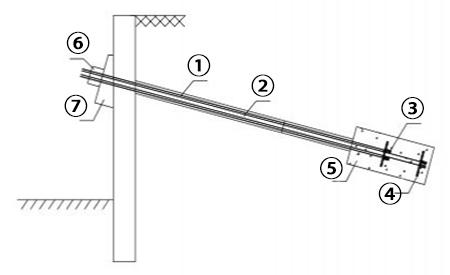 ① Unbonded tendon with wire;
② Free segment;
③ Hot melt anchor;
④ Bearing plate;
⑤ Anchoring section;
⑥ Anchor;
⑦ Base plate
1. Positioning of anchor hole
Measure the hole position for the anchor rod to be placed. Next, make sure the drilling machine is in place and adjusted to the designed angle of the anchor rod
2. Advancement of non-anchoring section
I. Direct advancement
The anchor rod is installed on the drilling rod. With the adoption of clear water inlet hole, water pressure controlled at range between 5 to 15 MPa and the driving speed adjusted according to the hardness of the soil layer, the anchor rod advances at uniform speed. As such, the body of anchor rod is brought in meanwhile the drilling rod is advancing.
II. Advancement of pre-formed hole
Adopts spiral drill rod and three-wings drilling bit to drill holes beforehand.
III. Stress-underreaming at the anchoring section with slurry
Underreaming conducted at the anchoring section with the use of slurry. The jet pressure should be higher than 20Mpa with its nozzle advancement speed controlled at 10-15cm/min and rotational speed controlled at 5-15r/min. The ratio of the slurry to cement is 1.0-1.2. Underreaming at the anchoring section is completed at one time.
IV. Withdrawal of drilling rod