Type YX Permanent Ground Anchor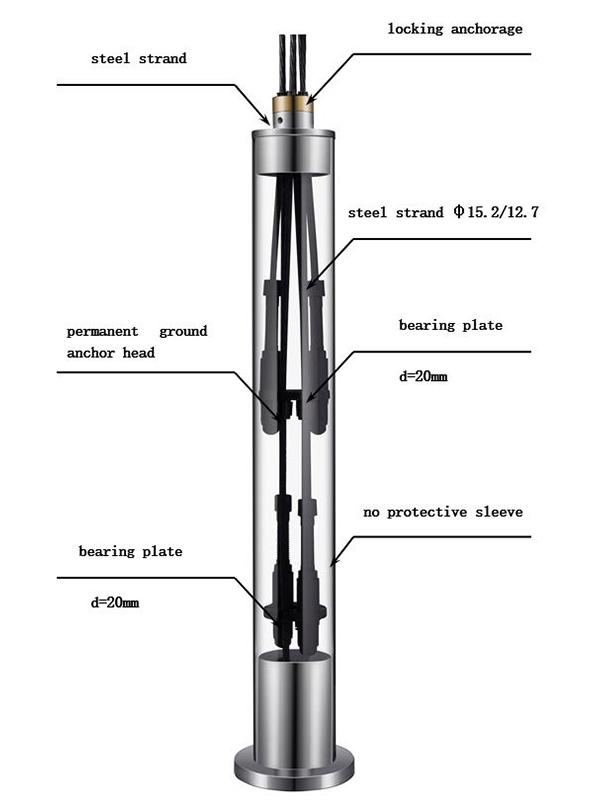 Type YX permanent ground anchor is a kind of prestressed anchor suitable for use in saturated clay, cohesive soil, sandy soil and other soil layers. It mainly adopts a high-pressure rotary spray method to form an anchoring section of the rotary spray underreamed anchor on the bottom plate of the anchor. Besides, the bearing plates are distributed in the anchoring section of the underreamed anchor to realize the dispersive of the internal stress of the anchor. As such, the pull-out force and its stability are strengthened which enable the integration process of drilling, anchoring and grouting. Furthermore, the work efficiency can be improved and the progress can be accelerated greatly.
Schematic diagram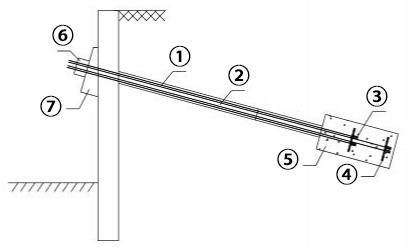 ① Unbonded tendon with wire;
② Free segments;
③ Hot melt anchors;
④ Bearing plate;
⑤ Anchoring section;
⑥ Anchor;
⑦ Base plate
Application
Slope
Counteracting uplift forces structure
Fixation of bridge bearing platform
Tunnel and fixation of other permanent buildings
Parameters
Construction process: Jet grouting
Diameter of bearing plate: 205mm
Thickness of bearing plate: 20mm
Function type: permanent
Corrosion resistance level: Ⅰ-level, allow usage in corrosive environment
Environmental friendly level: Environmental friendly PE, do not pollute the underground water
Suitable steel strand type:Φ15.2/Φ12.7
Suitable grouting pipe: not required
Features
Three layers of anti-corrosive structure with all steel cores adopt the injection molding process, steel strands made from national standard unbonded steel strands and the connecting part embedded with sealing strip that expands upon contacting with water
Adopt the jet grouting process which improves work efficiency.
Frequently asked questions
Q1: What is jet grouting?
A: The jet grouting process mainly adopts an improvised high-pressure rotary spray method to form an anchoring section of the rotary spray underreamed anchor on the bottom plate of the anchor. Read More >>
Q2: How many cable structures can this product built up at most?
A: Using only this model, 6 cables can be built at most where the largest internal diameter of the anchor rod body is 205mm.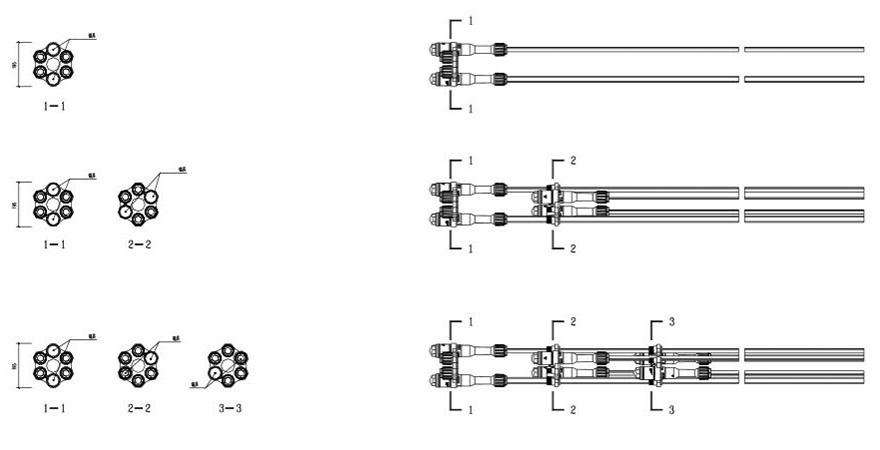 Q3: Is this product environmental friendly?
A: The materials used by the anchor consists of three types which is steel, wrapping layer of the steel strands covered in strong PE and PE. All these materials will not cause negative impact to the environment.
Q4: How well does this product resists to corrosion?
A: It is handled by SSPC—SP5 level anti-corrosive treatment.
Q5: What is the size of the casing used by this product?
A: This product adopts jet grouting process in construction instead of casing. For ground layer that is hard and direct advancement is not allowed, three-wings drilling bit is used to drill holes beforehand followed by jet grouting.